What is a normal poop?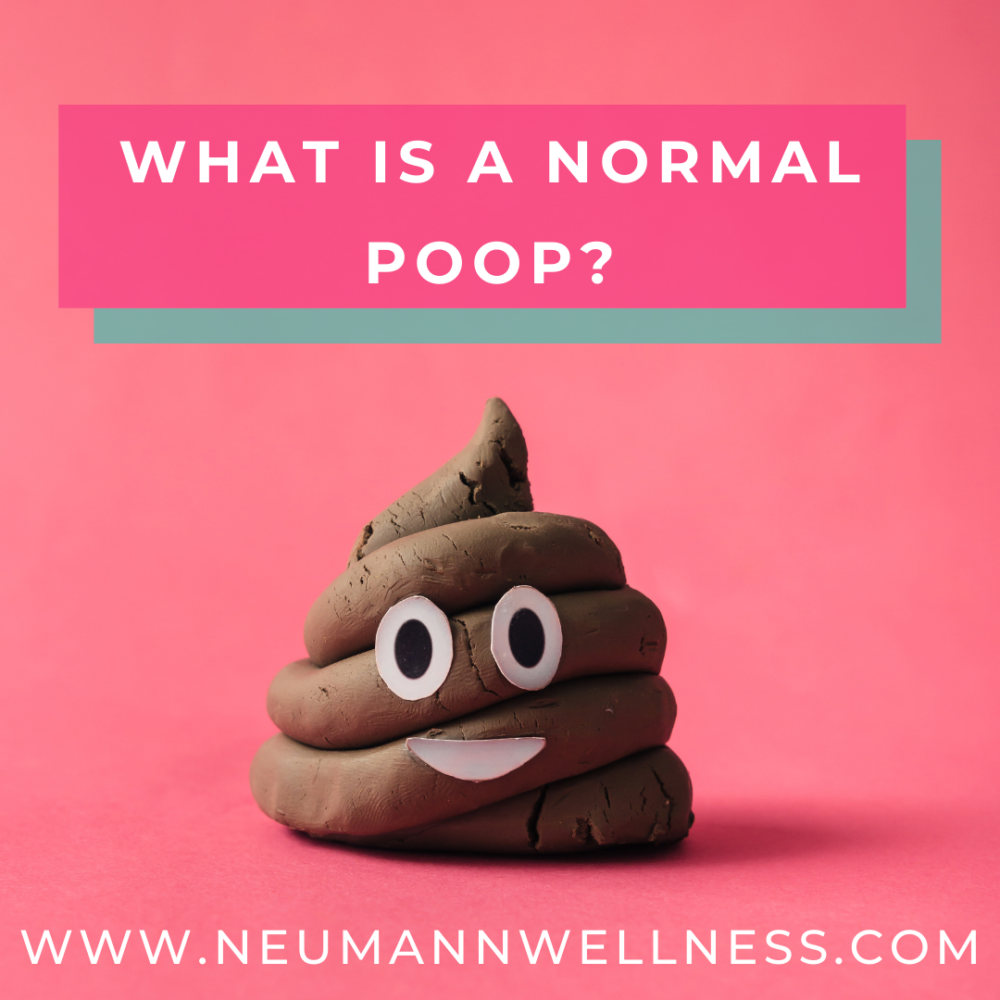 Is my poop normal?
You're probably not reading this on your large monitor at your office where a co-worker might see this. And you might be a bit embarrassed to ask your doctor about your bowel movements – I hear you!
Poop is totally normal (it's crazy I even have to announce that), unfortunately many may not even know if their bathroom habits are up to par because "poop shame" is real.
Poop shame disproportionately affects women– who also happen to suffer from higher rates of Irritable Bowel Syndrome (IBS).
Your poops are a major indicator of your overall health so it's important to know all the facts and how to tell if your #2s aren't up to par.
If you've been struggling with gut issues you might be feeling like:
Your bowel movements are completely erratic
Bloating, stomach pain, diarrhea, and/or constipation are your daily norm
Your doctor hasn't been very helpful in finding solutions to help you have a normal bowel movement
I'm going to go out on a limb and assume that if you clicked on this blog, then you aren't sure if your poops are "normal" or what "normal" even really means. 
Today I'll review what a normal bowel movement (aka, poop) looks like and what steps you can take to get yourself closer to having normal poops.
How often should you poop?
Let's start with the basics.
Researchers say that anywhere from three bowel movements a day to three a week can be normal. That's quite a range!
Since having a bowel movement means you're emptying wastes and toxins from the body, what I recommend to my clients is that they should be pooping at least once per day (ideally twice).
Factors that can affect the frequency of your bowel movements include:
Overall fiber intake
How well you hydrate
Your activity level
Your level of stress
Chronic or acute illness (chronic = IBS, acute = food poisoning)
Medications
What should your poop look like? (Color + Consistency)
The color + consistency of your poop can be a more significant indicator of your bowel health than frequency.
Overall, your poops should be:
brown
easy to pass
well-formed (but not too hard)
shaped similar to a sausage
have minimal clean up (i.e. you don't need an entire roll of toilet paper to wipe up!).
You shouldn't experience excessive gas or bloating after meals and there should be no visible pieces of food in your poop (except for things like corn, sesame seeds, and the like which can't get broken down).
If your poops vary slightly from this, there generally is no cause for alarm.
However, if you're noticing other indicators that seem "off", this may be a sign you have an underlying issue that needs to be addressed. And good news: I can help with that!
Color
We mentioned your poops should be brown…….but what if it isn't? Sometimes you might see other colors. Here are what those other colors might mean.
Blood: the cause for this could range from hemorrhoids to something more life threatening. Blood in the stool is never normal and should be addressed by a medical professional immediately.
Black or Tarry: this can be caused by internal bleeding higher up in the intestinal tract (like a stomach ulcer), iron supplements, over the counter medications like pepto bismol, or due to eating certain foods like black licorice or blueberries
Green: can mean food is moving too quickly through your digestive tract (bile doesn't have enough time to turn stool brown), eating artificially colored foods, eating green vegetables (roughage from leafy greens make an appearance), or taking iron supplements
Pale or clay colored: caused by a lack of bile salts (which gives poop it's brown color), antacids, or liver issues (more serious if accompanied by jaundice)
Yellow: associated with fatty foods not breaking down all the way
Consistency
The consistency of your poops should be well formed (i.e. there aren't small pieces, it's not mushy, etc.).
They say a picture is worth a 1,000 words. The Bristol Poop Chart was developed to provide you with a visual of which category your poops fall into. I have clients identify their bristol number in their health journal so we can gauge their progress.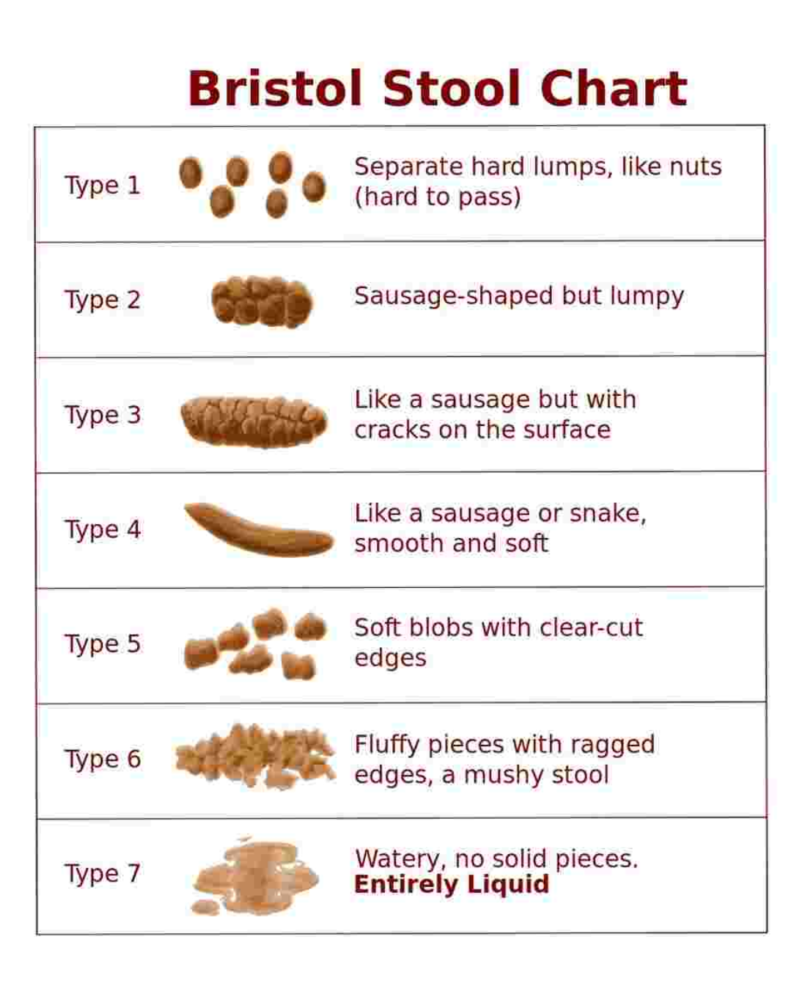 Here's the Bristol Stool Chart breakdown: Types 1-2 indicate constipation. Types 3-4 are ideal. And types 5-7 indicate diarrhea.
Type 1: Separate, hard lumps, like nuts + hard to pass
Type 2: Sausage shaped, but lumpy
Type 3: Sausage shaped but with cracks
Type 4: Sausage or snake shaped, smooth + soft
Type 5: Soft blobs with clear cut edges + easy to pass
Type 6: Fluffy pieces with ragged edges, mushy
Type 7: Watery or liquid, no solid pieces
Reasons why your poop isn't normal.
Constipation
If your poop is hard, dry, painful to pass, and happens 3 times or less per week, then you have constipation.
Constipation can be caused by:
A diet low in fiber
Not hydrating well enough
Not getting enough exercise
Inflammation in the gut (which slows motility) from food sensitivities or infections
Medications (for example, pain medications)
Chronic health conditions (neurological disorders that slow motility, thyroid issues, etc)
If pooping causes discomfort or if you feel like things are "getting backed up" this is definitely a sign of something gone wrong in your gut!
Diarrhea
If your poop is mushy or watery and you have to go more than 3 times per day, then you have diarrhea.
Diarrhea can be caused by:
Medications
Food borne illnesses
Viruses
Dysbiosis (imbalance of good and bad gut bacteria)
Chronic illness (IBD, IBS, Celiac, etc)
If your diarrhea lasts more than a few days then it could be a sign of bigger issues going on inside your gut. Having daily diarrhea is NOT normal and can lead to more serious health issues if left unaddressed.
How to have a better poop.
Want to know what you can do about it? The good news, is that there is a lot that you can do! And if you'd like to have a personalized plan to improve your digestion, I'm here to help.
Check your meds
The first step to having a healthier poop is to take a close look at medications and supplements you're on.
Do any of the medications you take cause side effects like constipation or diarrhea? If so, then it might be worth having a conversation with your doctor about alternatives.
Are you inadvertently taking a supplement that is causing your poop issues? For example, if you're taking high doses of magnesium and struggling with diarrhea, then it's a good idea to take a closer look at that (high dose magnesium can cause loose stools!).
Boost your fiber
Eating enough fiber is so important for regularity. People often overlook this simple fix. Get plenty of plants in your diet whether that's from vegetables, fruit, beans, nuts, seeds, etc.
Often eating fiber as "real food" will provide complex fibers and other important nutrients. My favorite quick and easy "real food" fiber add ins are chia seeds + ground flax.
There are great fiber supplements out there but it's important to be cautious about which, how much, and making sure they don't contain any of your food sensitivities.
I see doctors often recommending Benefiber to clients, which contains wheat dextrin– wheat is the most common food sensitivity I see in my clients so this is definitely not helping matters for them!
Hydration
How well are you hydrating? For most people, getting at least 8 x 8oz of water daily is a good place to start. If you're struggling with constipation this is a first good step.
Movement
Move your body daily. Exercise is key to getting your gut motility on track, not to mention it relieves stress!
Stress reduction
Stress is a big one. The majority of my clients can attribute stress as having an impact on their digestive symptoms.
I recommend getting outside daily, rest and relax (without social media) by using meditation apps like insight timer.
I wrote more about how your mindset can impact your immune system and your health in general here.
Reduce inflammation
Finally, you'll want to address factors that may be contributing to inflammation in your gut.
Up to 80% of your immune system resides in your gut, so if you're eating a food or chemical that's causing an inflammatory reaction, then you'll end up with abnormal bowel movements.
Inflammation in the gut can also be caused by imbalances happening in the gut too. Are there overgrowths of pathogenic bacteria? Do you have a parasite? Any imbalances in your gut could be contributing to abnormal poops.
Conclusion
I want you to know that bloating, stomach pain, diarrhea, and constipation are NOT normal and it IS possible to find a solution to your digestive issues.
If the unpredictability (or non-existence) of your bowel movements is wreaking havoc on your everyday life, you don't have to struggle any more!
Book a free call with me today so we can identify the root-causes to your digestive issues and send you on your way to living your most radiant life.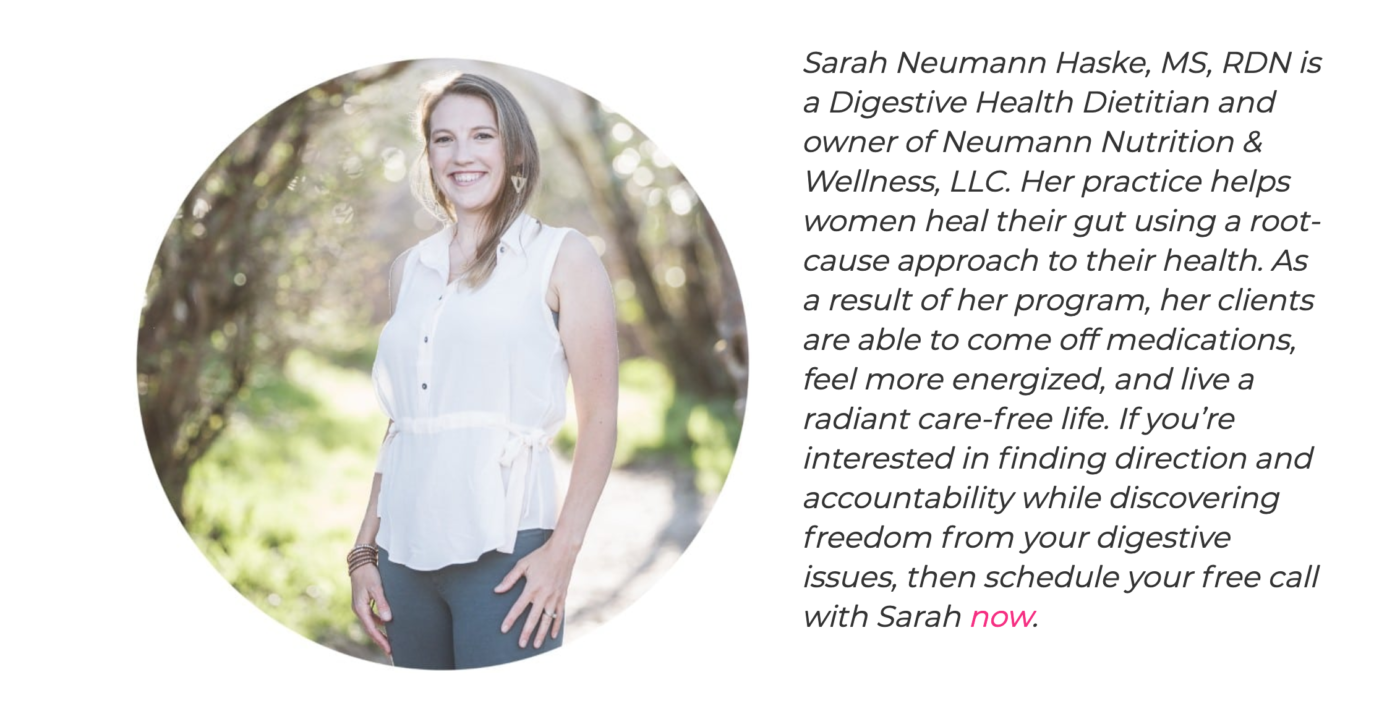 References:
https://www.medicalnewstoday.com/articles/319879
https://www.pennmedicine.org/updates/blogs/health-and-wellness/2019/march/poop