5 easy tips to eat healthy while traveling.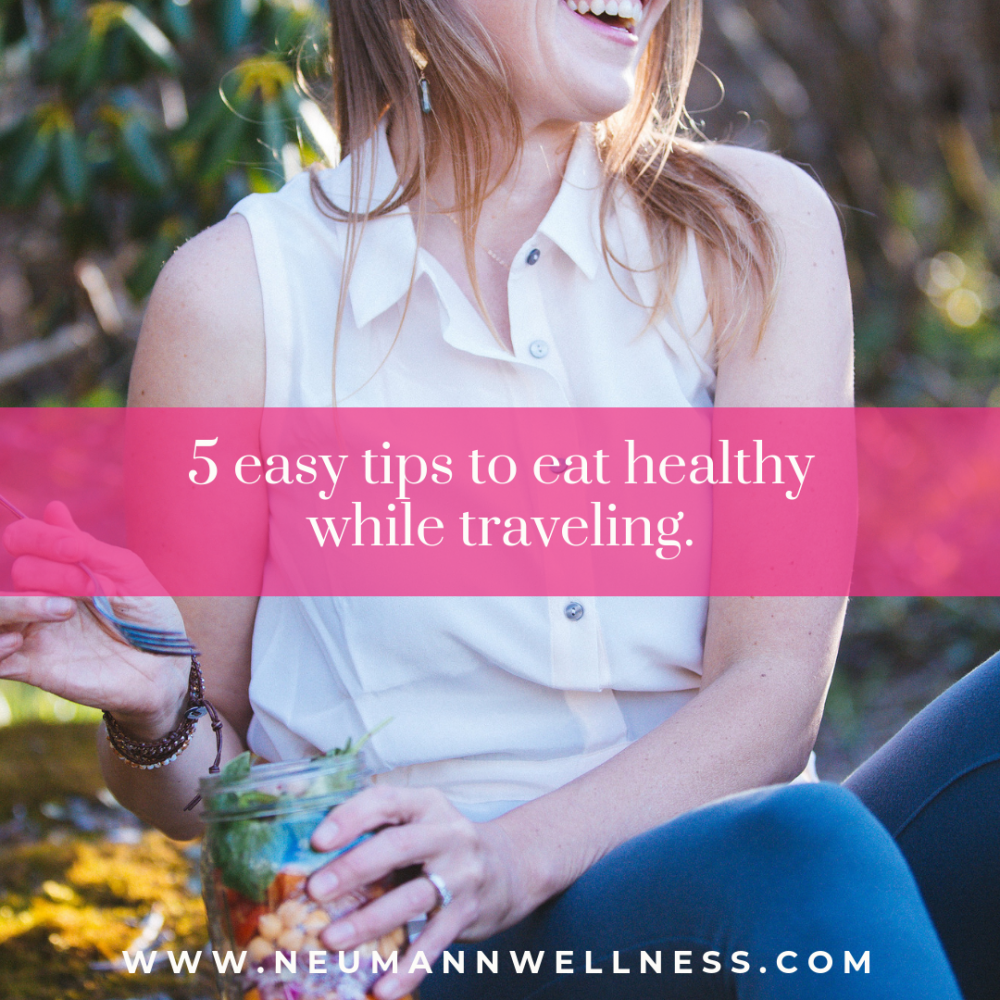 Eating Healthy While Traveling is Hard.
As someone whose spent her fair share of time traveling on the road over the years, I can personally tell you that trying to eat healthy while traveling is no easy feat!
Sure, there are going to be those times you might throw back some pizza in Italy or wine in France and immerse yourself in the local delicacies of wherever it is you're traveling.
But if you're traveling often for work or if you struggle with food sensitivities and digestive issues, that might not always work in your favor.
Here's a few of my favorite tips to get you started on your journey to eat healthy while traveling.
Bon voyage!
1.) Pack a re-usable water bottle.
Bringing your own water bottle is a great way to guarantee you'll stay hydrated, not to mention it's a great way to save money and the environment too!
I personally carry a non-plastic, reuse-able water bottle with me wherever I go. If you didn't already know, it's important to try and minimize your exposure to plastics (it's hard, I know!). I even keep a re-useable water bottle handy in my car for errands around town too. My favorite non-plastic bottles are Hydro Flask and Klean Kanteen .
2.) Pack your favorite non-perishable snacks.
Stock up on some of your favorite non-perishable snacks to keep your diet regular. Make sure they're TSA friendly if you're traveling through airports.
Some of my favorites are:
Vigilant Eats Oatmeal Packs (or if you like plain packs so that you can add your own toppings, you can do Nature's Path)
Fresh Fruit: apples, bananas, grapes, berries, etc
Fresh Veggies: baby carrots, cherry tomatoes, sliced peppers, sliced cucumbers, spinach, basil, etc
No additive dried fruit such as figs, dates, apricots, raisins, etc. (check label to be sure sugar or other fillers haven't been added)
Nuts & Seeds (if tolerated): pumpkin seeds, cashews, almonds, brazil nuts
Olive oil or homemade dressings carried in a glass container or silicone (plastic free) squeeze bottle
Snack bars: That's It Fruit Bars, Lara Bars, Kind Bars, Epic Bars, Go Macro Bar
You'll find that most of the snack brands I recommend are ones with the fewest additives or hard to pronounce fillers. This can be so important, especially for those struggling with digestive issues!
3.) Fill up a small cooler if you're traveling on the road.
If you haven't already noticed, virtually every gas station is void of any fresh produce. One major key with road traveling is to invest in a small cooler and an icepack so you can carry a few of your favorite chilled goodies.
I like to carry a few favorite veggies, homemade dressings, and tortillas to make my own wraps. You can also pre-pare salads, bring leftovers, bring homemade dips, and slice up a few of your favorite fruits and veggies to keep chilled for the long drive ahead.
I also like to bring a few canned (plain, unsweetened) seltzers with slices of lemon to add a refreshing twist for the trip.
4.) Book an AirBnB that has a kitchen available so you can cook versus eating out.
This is a great option for those who travel a ton for work. Instead of being stuck in a hotel with no kitchen amenities, why not book an airbnb instead?
On top of that, you can use instacart to have groceries delivered right to the place you're staying– that way you don't have to rush around in a hectic mess trying to find healthy options to cook with.
5.) Before you get to where you're going, map out a few walking or hiking trails, local gyms, yoga studios, and healthy restaurants.
Plan ahead! You can bookmark or star a few of these places on your google maps app before you get to your destination. Small bouts of physical activity are key to keep your metabolism going.
When I do long drives, I make it a point to take a 20 minute run break to: 1.) keep myself awake, and 2.) to keep my metabolism running strong.
If you're in an airport, you can make it a point to take the stairs instead of escalators and walk around the airport if you have a long layover.
When I get to my destination, I do a few deep stretches to help stiff muscles relax from sitting all day. Then I try to figure out how and where I'll get my daily physical activity in for the remainder of my stay.
Finally, it's just a fact of life that you'll likely be eating out at some point while you're traveling. A couple of my favorite sites to find healthy eating options are Healthy out (app) and Eat well guide.
That's it! I hope you've found these tips to eat healthy while traveling helpful for your planning your next trip.
If you're looking for guidance to jet set your health, then schedule a free phone consultation with me here.
Until next time, Bon Voyage!
Sarah Neumann Haske, MS, RDN is a Digestive Health Dietitian and owner of Neumann Nutrition & Wellness, LLC. Her practice helps women heal their gut using a root-cause approach to their health. As a result of her program, her clients are able to come off medications, feel more energized, and live a radiant care-free life. If you're interested in finding direction and accountability while discovering freedom from your digestive issues, then schedule your free call with Sarah now.